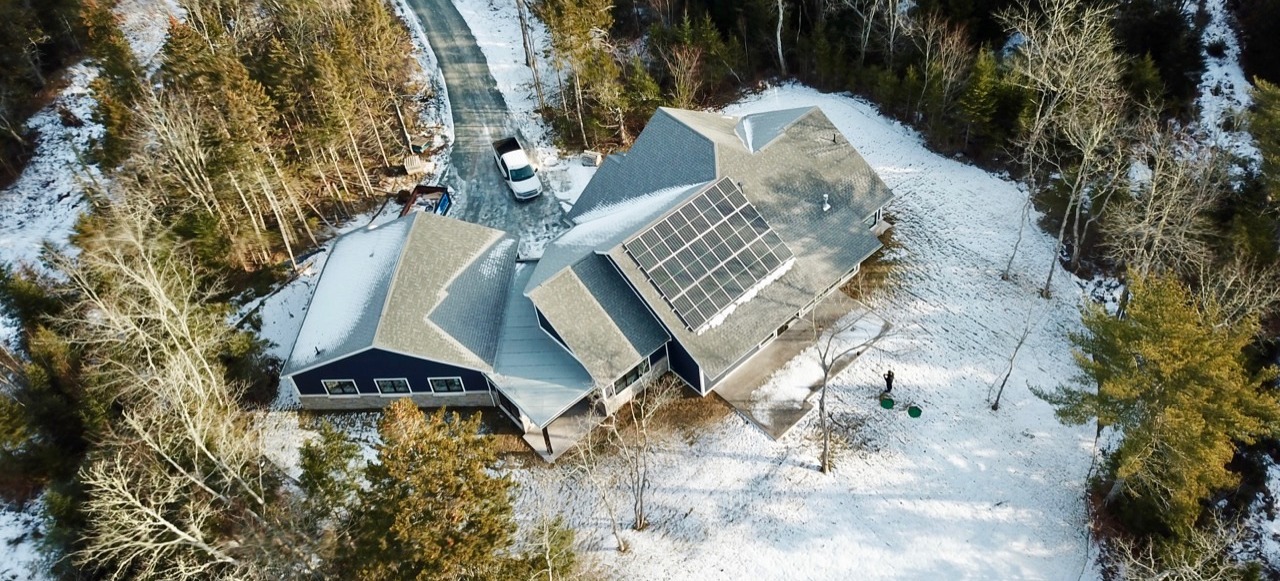 The snow may be late, but the waning light is always right on schedule. If your Passive House is already under construction, the rush to finish--or at least get weathertight--can feel like a race against time itself. But if you're at the design and planning stage of your project, long winter evenings are the perfect opportunity to explore styles and innovations, and to begin imaginatively crafting your dream home. Whether your plans come together in an idea book, on Pinterest boards or in a one-on-one consultation with an architectural designer, there's no denying the excitement of finding a style that speaks to you. A style that says welcome.
In this issue, we're giving a sneak peek at six new stock plans to inspire your planning. We have exciting updates on affordable housing projects in Nova Scotia and our builder affiliate program, and we'll take a look at the science behind the blower door test. As always, we invite you to use this link to book your free 30-minute consultation with one of our architectural designers.
---
Affordable Housing: from concept to reality
We are getting a lot of calls these days from community organizations and developers who are eager to create high-quality homes for affordable tenancy. Securing funding to get these exciting projects on the ground can be a lengthy and uncertain process for our clients, so we're always delighted when a project we designed makes it all the way to move-in day. Here's the latest updates from two of our multi-unit projects.
Adsum's Sunflower Court now fully occupied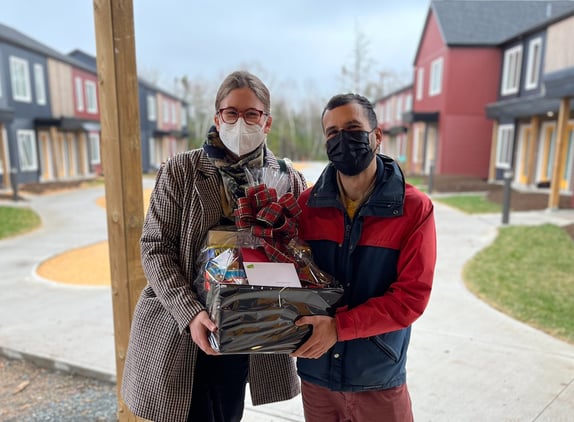 Welcoming the new tenants
PDS staffers Molly and Naryn recently visited Adsum's new Sunflower Court development with a welcome basket of treats for the community.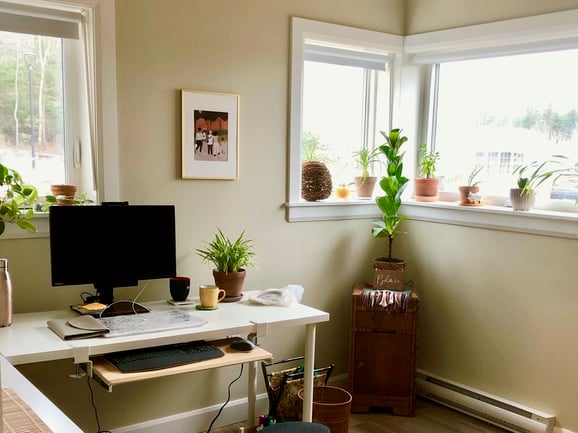 It's so nice to have a window!
One Adsum staffer shared their excitement over their new office space. After twelve years of working in a windowless room, their new space at The Sunflower brings light and joy to their work.

---
True North Crescent sails through construction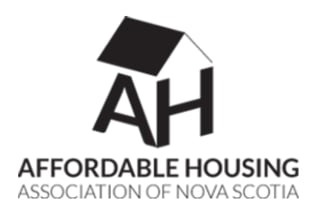 Building 80, the first of four buildings in the True North development led by AHANS, is rapidly becoming a reality. DORA Construction has installed the windows, and siding is now underway. As winter rolls in, progress will shift to interiors at Building 80 and preparations for breaking ground on the next three buildings. Once complete, True North Crescent will provide 44 units of affordable housing to residents in Dartmouth, Nova Scotia.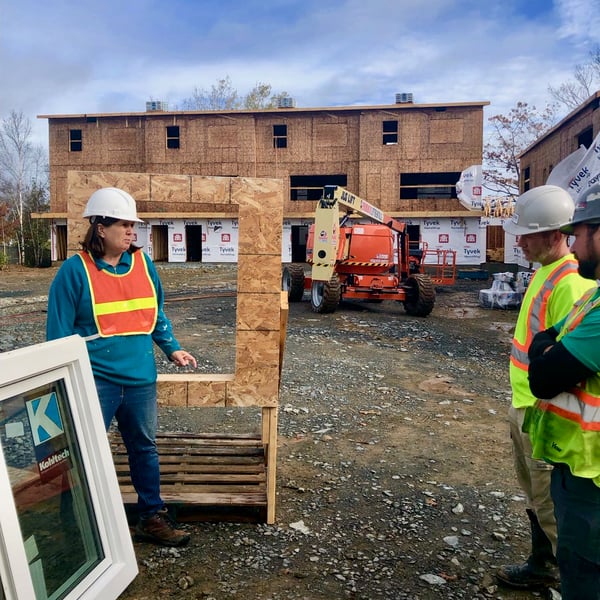 Natalie Leonard, P.Eng., giving a window installation tutorial to the crew at Building 80.
Did you know? PDS offers Construction Support services to all of our clients.
---
NEW

2023 Stock Plans
Take a sneak peek at our latest customizable plans
From the tiny 'Sunrise' garage/studio apartment to the 'Grand Etang' family farmhouse, these latest additions to the Cape Series Passive House Collection© were designed with today's housing needs in mind. Available now through the links below.
Sunrise

Sunrise was conceived as a solution for those seeking a balance of practicality, compactness and affordability.

Ingonish Ferry

Family-friendly and highly functional, this modern farmhouse offers space and privacy at rock-bottom energy cost.

Birch Plain

An inventive solution for sloped sites, Birch Plain's refreshing design has a walkout basement, vaulted ceiling and cozy loft.

Grand Etang

The wrap-around porch and inviting style of Grand Etang offers 3-story living for large families or lots of overnight guests.

St. Espirit

Bold and slim with a rooftop patio, St. Esprit brings Passive House design street side--alone or as a row house.

Keppoch

Keppoch is a classic, 3-bedroom family home with a rec room and hobby space that also works as a row house.
Want to see more? You can view our full catalogue of Home Plans online
---
Science into Savings
The Blower Door Test
If you've ever lived in a drafty house, you know how hard it is to keep the heat inside. Even in standard code-built homes that aren't exceptionally drafty, 40-50% of heat loss happens through air leakage. That's a lot of excess energy cost and a lot of opportunities for moisture to get into the wall assemblies.
The blower door test is used in Passive House construction to ensure air tightness targets are met. It is performed by a skilled technician once the outer envelope has been sealed, and before drywall is installed. It uses an outward-blowing fan and sensitive electronics to depressurize the interior of the house and measure the rate of air leakage through breaks in the outer envelope. On average, Passive Houses perform 6-10 times better in this test than code-built homes, thanks to careful considerations made during design and construction.
In a Passive House, the air-tightness target isn't just about energy efficiency--it's also about vapour. As air moves through the wall assemblies through unsealed cracks and nail holes, it also transports moisture, which can condense in the walls as it cools. The thicker a wall assembly the more difficult for it to dry out. As trapped moisture can cause mold, rot and building failure, it pays to keep the draft out.
PDS offers the blower door test as part of our Construction Support package.
---
Builder Affiliate Program
Welcoming two new affiliates
Serving mainland Nova Scotia

Phone: 1-902-830-8614

Serving southern Quebec

Phone: 1-514-295-3519
Find your builder. Browse our growing list of builder affiliates here.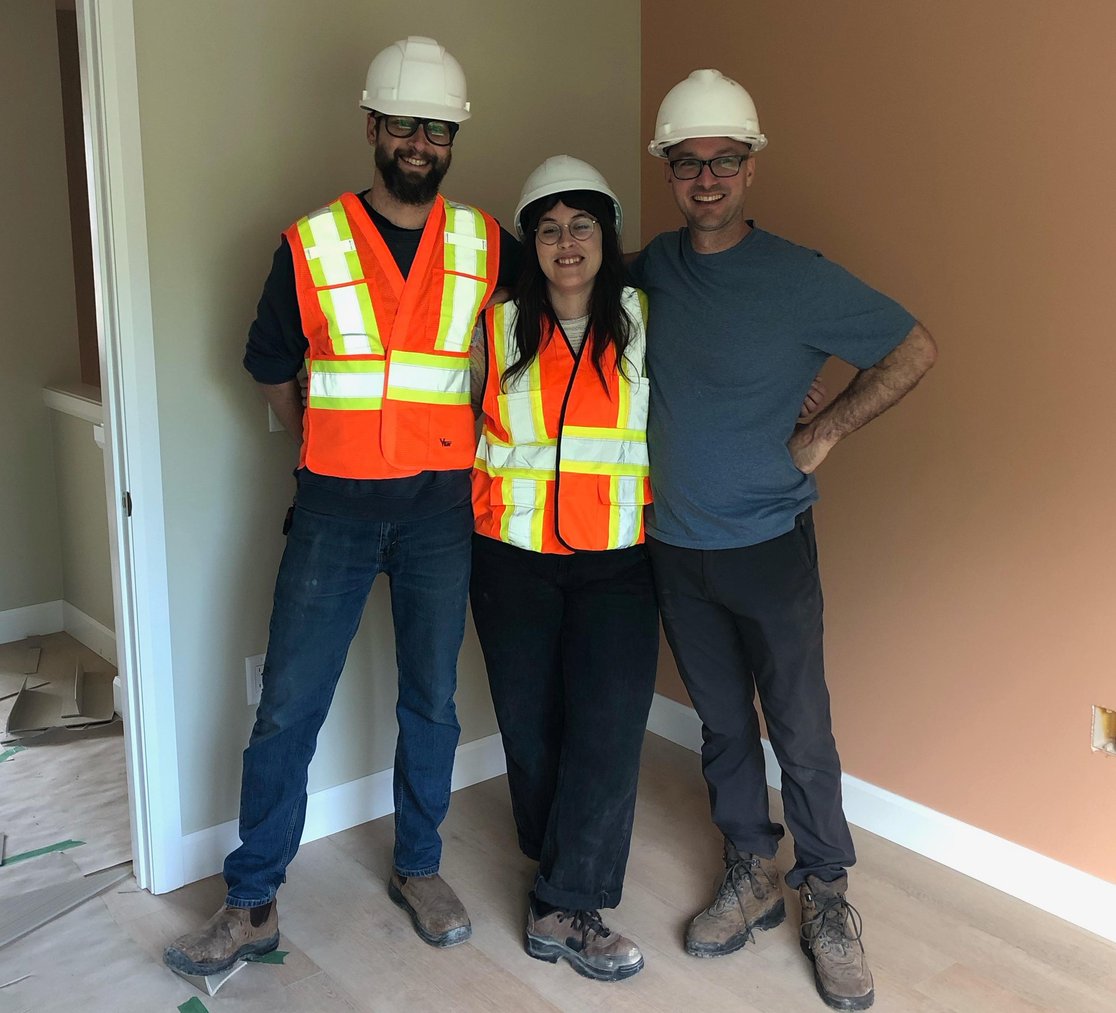 Zak, Liz and Mike from the PDS team on-site at The Sunflower.